SERVICE ADJUSTMENT PROCEDURESá
TRANSAXLE FLUID LEVEL INSPECTION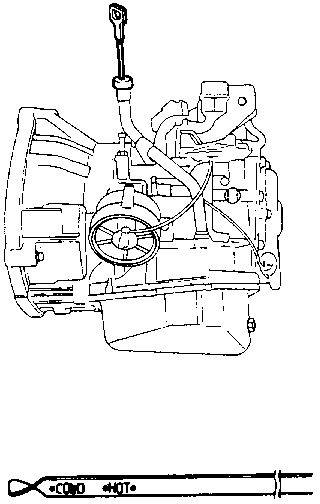 Drive the vehicle until the fluid temperature reaches normal operating the usual temperature [80-90░C (176-194░F)].
Place the vehicle on a level floor.
Move the selector lever sequentially to every position. This will fill the torque converter and hydraulic system with fluid, then place lever in "N" (Neutral) position.
Before removing the dipstick, wipe all contaminate from area around the dipstick. Then take out the dipstick and check the condition of the fluid.

The transaxle should be overhauled under the following conditions.

If there is a "burning" odor.

If the fluid color has become noticeably blacker.

If there is a noticeably excessive amount of metal particles in the fluid.

Check to see if the fluid level is in the "HOT" range on dipstick. If fluid level is low, add automatic transaxle fluid until the level reaches the "HOT" range.

Transaxle fluid: GENUINE HYUNDAI ATF SP-II, DIAMOND ATF SP-II or AUTRAN MMSP-II.

Low fluid level can cause a variety of abnormal conditions because it allows the pump to take in air along with fluid. Air trapped in the hydraulic system forms bubbles which are compressable. Therefore, pressures will be erratic, causing delayed shifting, slipping clutch and brakes, etc.

Improper filling can also raise fluid level too high. When the transaxle has too much fluid, gears churn up foam and cause the same conditions which occur with low fluid level, resulting in accelerated deterioration of automatic transaxle fluid.

In either case, air bubbles can cause overheating, and fluid oxidation, which can interfere with normal valve, clutch, and servo operation. Foaming can also result in fluid escaping from the transaxle vent where it may be mistaken for a leak.
Be sure to examine the fluid on the dipstick closely.
TRANSAXLE FLUID REPLACEMENT
Refer to GROUP 10-Lubrication and Maintenance.