Malfunction Indicator Light (MIL)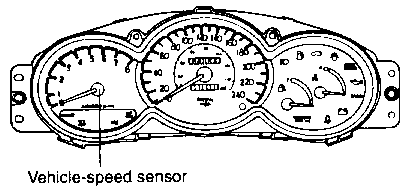 A on board diagnostic light comes on to notify the driver that there is any problems on the vehicle. However, when an irregular state returns to normal, the malfunction indicator lamp will go out automatically after 3 driving cycles that have no same fault. Immediately after the ignition switch is turn on, the malfunction indicator light is lit for continuously to indicate that the malfunction indicator light operates normally.
Following items will be indicated by the MIL.
Fluid temperature sensor

Pulse generator A (PG-A)

Pulse generator B (PG-B)

Shift control solenoid valve A (SCSV-A)

Shift control solenoid valve B (SCSV-B)

Pressure control solenoid valve (PCSV)

Damper clutch control solenoid valve (DCCSV)

Shift stage synchronizer

Ignition pulse

Throttle position sensor

Transaxle range switch