ABS SRI (SERVICE REMINDER INDICATOR) CIRCUIT 
If trouble occurs, the ABSCM lights the ABS-SRI while at the same time terminating ABS operation. At this time, the ABSCM records a diagnostic code in memory.
If the ABSCM detects a fault in the Anti-Lock Brake System, the ABSCM turns the ABS SRI on and disables the ABS. At the same time a trouble code is stored in the ABSCM memory.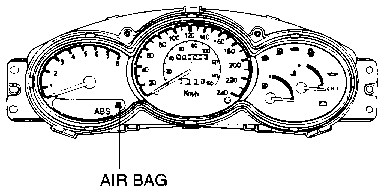 DTC
Code

DISPLAY ON
SCAN TOOL

Symptom

Possible Cause

44

ABS SRI CIRCUIT - SHORT GND

Service Reminder Indicator short to ground


Service Reminder Indicator

Box (Fail safe Relay)

Fuse


45

ABS SRI DIODE - OPEN

Service Reminder Indicator diode not OK



46

ABS SRI CIRCUIT - SHORT BATT

Service Reminder Indicator short to 12V



47

ABS SRI CIRCUIT - OPEN

Service Reminder Indicator open circuit



WIRING DIAGRAM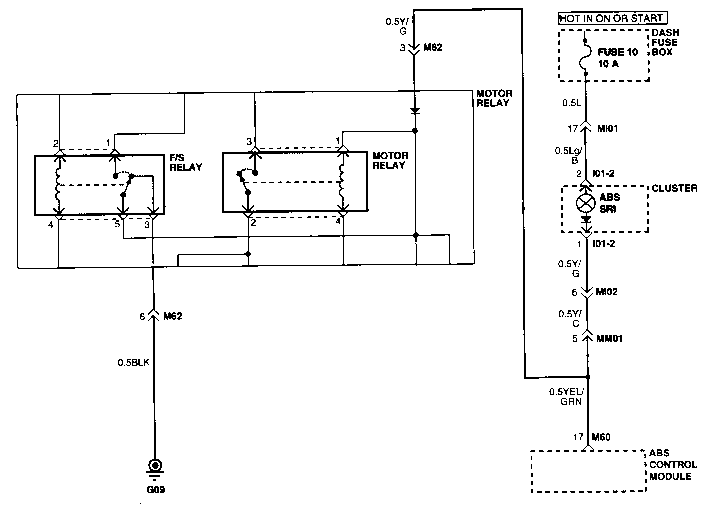 INSPECTION PROCEDURE
Check the ABS Service Reminder Indicator circuit without Relay-Box
Check the ABS Relay-Box harness
Check the ABSCM connector harness
Check the ABS SRI Circuit
Check the ABS-Relay Box (Fail safe relay)
Check the Fail safe relay