CIRCUIT INSPECTION (SPEED SENSOR CIRCUIT - AIR GAP SYMPTOM) 
At each wheel hub there is a tone wheel and an inductive sensor, which supplies the wheel speed information to the ABSCM. The sensor is comprised of a magnet and a pole piece surrounded by a coil. When the tone wheel rotates adjacent to the sensor pole piece, an alternating current signal is generated in the coil with a frequency proportional to wheel speed.
A special integrated circuit in the ABSCM translates the generated AC signal to a square wave.
This square wave is used by the microprocessor to operate the ABS.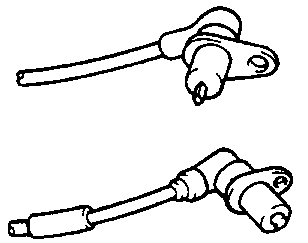 DTC
Code

DISPLAY ON
SCAN TOOL

Symptom

Possible cause

31

LF WHEEL SPEED SENSOR AIR GAP

Air gap ON sensor LF incorrect


Wheel speed sensor air gap

Wheel speed sensor

Harness or connector between the wheel speed sensor and ABSCM

ABSCM


32

RF WHEEL SPEED SENSOR AIR GAP

Air gap ON sensor RF incorrect



33

LR WHEEL SPEED SENSOR AIR GAP

Air gap ON sensor LR incorrect



34

RR WHEEL SPEED SENSOR AIR GAP

Air gap ON sensor RR incorrect



WIRING DIAGRAM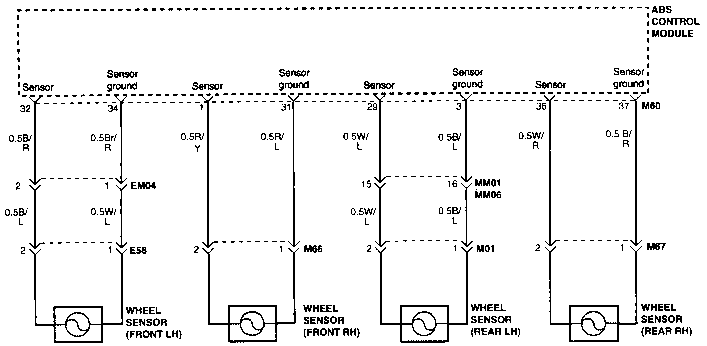 INSPECTION PROCEDURE
Check Wheel Speed Sensor
Check the harness and the connector between the ABSCM and each wheel speed sensor