OBD-II ON BOARD DIAGNOSIS-II SYSTEM 
THE RELATIONSHIP BETWEEN DTC, MIL AND DRIVING PATTERN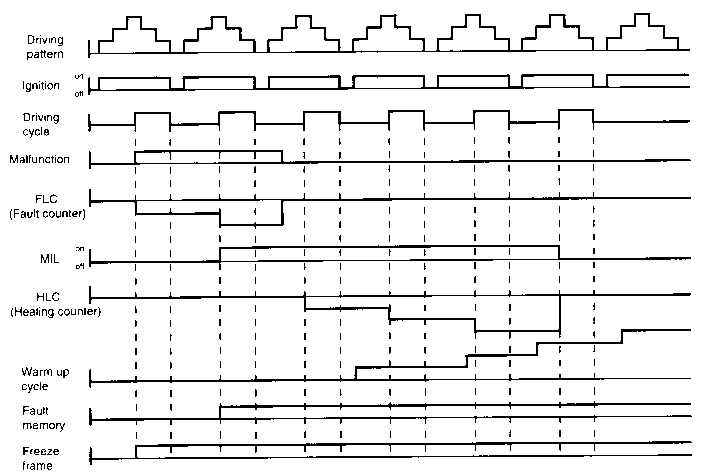 When the same malfunction is detected and maintained during two sequential driving cycles, MIL will automatically light.
MIL will go off automatically after 3 sequential driving cycles without the same malfunctions.
After the ECM first detects a malfunction, a diagnostic trouble code is recorded when the engine is restarted and the same malfunction is re-detected. However, for misfire and CKP sensor, diagnostic trouble codes are recorded on the first detection of the malfunction.
After recording the diagnostic trouble code, if the ECM does not re-detect the malfunction for 80 warm-up cycles, the diagnostic trouble code will be erased automatically from the ECM memory.

NOTE

A "warm-up cycle" means sufficient vehicle operation such that the coolant temperature has risen by at least 40 degrees Fahrenheit from engine starting and reaches a minimum temperature of 160 degrees Fahrenheit.

A "driving cycle" consists of engine startup, vehicle operation beyond the beginning of closed loop operation