REASSEMBLY 
Perform reassembly in the reverse procedure of disassembly. Pay attention to the following:
Before the rotor is attached to the rear bracket, insert a wire through the small hole in the rear bracket to lock the brushes. After the rotor has been installed, the wire can be removed.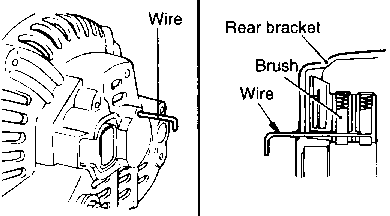 INSTALLATION
Position the generator and insert the support bolt. (Do not attach the nut.)
Push the generator forward and determine how many spacers (thickness: 0.198mm) should be inserted between the front leg of the generator and the front case (space A in the illustration). (There should be enough spacers so that they do not fall out when you let go of them.)
Insert the spacers (space A in the illustration), attach the nut, and complete the installation.