TESTING ARMATURE 
TESTING ARMATURE FOR SHORT-CIRCUIT
Place armature in a growler.
Hold a thin steel blade parallel and just above while rotating armature slowly in growler. A shorted armature will cause blade to vibrate and be attracted to the core. Replace shorted armature.
TESTING ARMATURE FOR GROUNDING
Check the insulation between the armature coil cores and the commutator segments. They are normal if there is no continuity.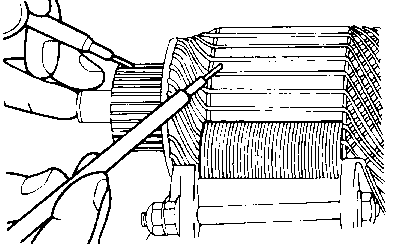 CHECKING FOR ARMATURE COIL WIRING DAMAGE/DISCONNECTION
Check for continuity between segments. The condition is normal if there is continuity.